You can't really tell but the tangerine polish is NYC Times Square Tangerine.
The Green is Four Leaf Clover.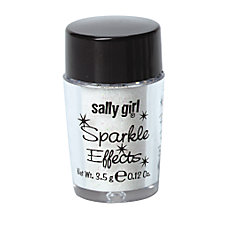 Sparkles I used
available at sally beauty supply
for around a dollar.
This week I was in the mood to paint my nails green, my favorite green at the moment is Four Leaf Clover, I picked this polish up for Saint Patricks day, which is also my birthday in case you were wondering... Any ways this instantly became my favorite green polishes, I felt as though my life needed a bit of sparkle this week so I added some sparkle and made my ring fingers tangerine because I personally am not a fan of all of my nails being the same I quite like to have an accent nail. The tangerine polish I used was NYC Times Square Tangerine, its a creme polish. I used three coats of the tangerine and two coats of the green. On the second coat I sprinkled on some white glitter that had a green undertone before the polish had a chance to dry and then a few coats of Seche Vite top coat, personally I don't like this top coat I'm just trying to use it up. I also used the Seche Clear base coat, for all those wondering the company really isn't Seche Vite that's just the name of the top coat I feel a lot of people don't realize that since most everyone calls it Seche Vite.
Both hands are the same this week, and
the sparkles look much prettier in person,
I feel as though sparkles just don't show up
too well in photos. Also polish isn't that yellow
based its more blue based but still very green.
Links to products mentioned:
(sparkles)
http://www.sallybeauty.com/facial-glitter/SBS-388600,default,pd.html
(Green polish)http://chinaglaze.com/try-me/ under the creme section, first page second row, third in.
(Tangerine polish)http://newyorkcolor.com/products/nails/nail-color/long-wearing-nail-enamel
(Top coat)http://www.seche.com/products/product-83005.html
(Base coat)http://www.seche.com/products/product-83003.html
Thanks for reading
, leave any request down below. Also I have a question for you, have you ever finished a bottle of nail polish, I never seem too, I've only ever finished one it was an Avon polish named Tweed.
**All products mentioned were purchased by me, this is not sponsored, all opinions are my own.
Get brushes here: http://www.sigmabeauty.com/?Click=198710 use code STAR2012 for 10% off during June.