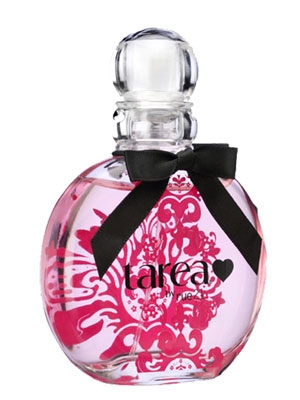 This one is my favorite.
Hey,
I wanted to talk about these perfumes with you, I figured I would just make a review out of it. I'm not going to even go into scents because that is such a hard thing to suggest to someone or review since we are all different with scents. I know I usually review makeup but I really do love these and want to share my thoughts with you.
I love these perfumes, the only thing about they're scents I'm going to say is they all come off to me as sweet, but I really do like them. These perfumes are only sold at Rue 21 stores and outlets, they are 10usd, they only come in one size; which is 1.7oz. These last so long though, not just the bottle but on you. They remind me of the Escada perfumes, since they so sweet, but from what I've been told those fade away really fast. Honestly these last on me all day, they have qualities of a high end perfume and they are only ten dollars.
These are really great for people who like perfume over body splash, want something that's going to last all day, and that's cheap. I honestly recommend these to everyone, they aren't a sophisticated scent or a mature scent but they are really great for the price and they have really cute packaging, it doesn't look as nice as high end perfumes but its is cute and not extremely cheap looking. I really do suggest everyone to just smell them at least. These are also good for teenagers who want a good selection of perfumes but can't afford to buy a lot of high end perfumes, they would make good gifts for teens too. I will say these are more for people around 14-24, but anyone could wear them they just have a teenager/ young adult quality.
The only down fall of them in my opinion is that you can only get these at Rue 21, but other then that they are great, and affordable.
Have you tried these before, do you like them, and what ones have you tried?
Thanks for reading,

please leave any request below!
Rue 21
, they seem to have gotten rid of a few, but are always coming out with new ones.